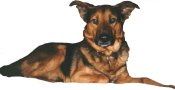 Kaiser
Rehomed and Happy
Kaiser found himself signed over to the pound due to a change in his owners circumstances. He was a lovely big softy who must have wondered what was going on.


He wasn't offered a rescue space so came into our emergency boarding kennels where he soon won everyone round and would often be found standing at the front of his kennel waiting for the next passerby to give him a big fuss and tickle. Poor Kaiser became poorly in the kennels and we think it was a mixture of the metacam he was getting for his wobbly back legs and depression - he became very flat and quiet... and we all hated to see the big cuddly lad feeling so down.
We started an appeal for him to see if we could also find him that special home as well as a rescue space but places and homes can be harder to come by for some breeds of dog sadly but we knew we would keep trying and doing our best to keep his spirits up.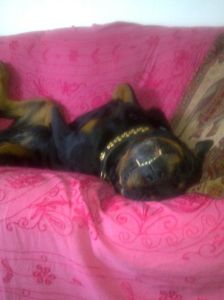 We were contacted by one of our volunteers who really felt for Kaiser to ask if she could take him out for walks and give him a break. Kaiser soon started going for day trips to his new Aunties house where he soon proved that he was no stranger to home life!
His new Auntie was falling for him and vice versa and it was clear to see the change in Kaiser when he was able to spend some time away from Kennels; and the arrangement was formalised with Kaiser going into foster.
About a month afterwards we had an enquiry for Kaiser to offer him a home; upon telling his foster mum she realised that what we all knew all along - Kaiser was going no where and had been in his new forever home all along!!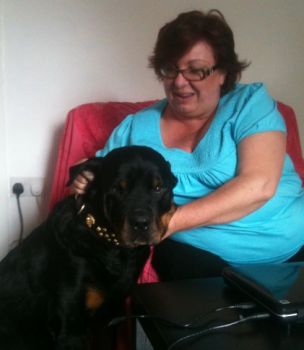 He is so very much loved and recently won the 'Dog Judge would like to take home' at Rottiefest - something none of us can argue with.
Another happy ending!
---