Pumpkins Page
Pumpkin has been with us a little while now and we just don't know why, she is a gorgeous girl with a wonderful temperament.  We have made her a page of her own to tell you how much of a star she is in the hope that we can find her a forever home!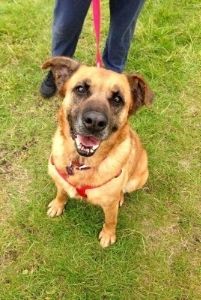 When Pumpkin arrived with us she was in a terrible condition, she was all skin and bone and had an untreated skin condition which had left her with no fur in many places and irritated sore skin. Upon arrival Pumpkin was very shut down, she didn't know how to play, she never wagged her tail - it was as if she had just accepted her situation.

She went straight to our vets and with their guidance and the loving care of the kennels and volunteers she was nursed back to good health. She learned how to play and she is now a very cuddly and happy girl who is ready to be rehomed.

Please see below for pictures of Pumpkin on her arrival....

Poor Pumpkin is still waiting for her new home - she would make a great new family member for the right home.    
We know that Pumpkin does get on with children and cats - she recently went to the home of our volunteers and lived happily all weekend with their cat. Here is their write up:-
PUMPKIN'S ADVENTURE

It was just another ordinary day at the kennels when my Uncle Dave and Aunty Abi came to see me. I thought I was just going for a walk but to my surprise they put me in their car and took me to their house. There was a duvet in the living room and this was to be my bed for the next couple of days. I was introduced to their cat, Hobo, she didn't run off and we touched noses. She's ok, for a cat. The next day I was taken in the car again and we went to the seaside, Southport is great, lots of different sights and smells, we went on the beach and I supervised when they were playing crazy golf. I was very tired at the end of the day and I had a good sleep on my comfy bed. I have had a great couple of days, I have met lots of people who have all made a fuss of me and the cats weren't too bad either. I have been on lots of walks and met some friendly dogs. I would love to live in a house as I would be so good, I don't bark or jump up. I am house trained and always do as I am told. I just want to find my forever home where I won't be left on my own.
We do know that Pumpkin does not like to be home alone - she was previously rehomed but came back to us as the families working hours were too long for her - the family were able to build her up to being left for a couple of hours without any problems, but at that stage in her training any longer was too much which wasn't fair on her or the family.  It maybe that with time and patience she can be built up to be left for longer periods.
Pumpkin has been getting on with some dogs when out and about but she doesn't like all dogs, so does need to be an only dog.
Her skin and condition as you can see has improved greatly, she does have occasional flare ups of her skin condition for which the vet treats wtih a course of medication (steriods) which settles her skin down again.
Pumpkin is a lovely girl, she just needs her new familiy to be around for her and in return she will share cuddles and kisses and be your new best friend!
If you would like to see more of sweet Pumpkin
Click Here
for her Facebook Photo Album
If you think you could offer Pumpkin a loving home then please complete our Rehoming Enquiry Form in the first instance.
---
View My Stats
---
REGISTERED CHARITY NO: 1162047