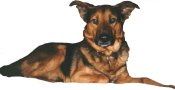 Bovril's Story
Bovril arrived in the pound on 1st May having been found at the side of the road not moving. Although he had no physical injuries he was clearly traumatised, and it is possible he was thrown or dumped from a car.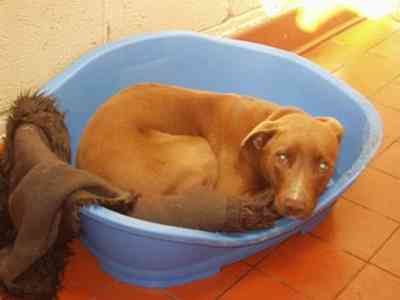 For the first couple of days Bovril would not move from his bed and was clearly terrified. He was lethargic and withdrawn, although thankfully he was eating. Gradually over the rest of that week Bovril began to come out of his shell, and as he neared the end of his 7 day stay he proved himself to be a friendly and well-behaved chap.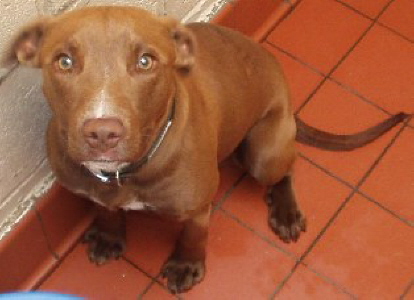 On 9th May Bovril's 7 days were up, and although several volunteers had offered to help with parts of his journey to the rescue space he had been offered in Kent, there were gaps which could not be covered. The only option, to save Bovril from being pts, was to move him into boarding kennels while we continued to work on the transport arrangements.

The date was reset for 12th, and again we asked for volunteer transporters. Some of our regulars were happy to help, and a new lady, Nicola, joined the ranks but we still had sections of the M1 without cover. Things were not looking good until Natalie, a young lady who has helped us with transport before, offered to try and rally troops on www.labradorforums.co.uk . Offers of help rolled in and pretty soon Bovril's trip was finalised thanks to Heather, Michaela, Phil, Sarah and Nicola.

Laughing at Sarah's jokes: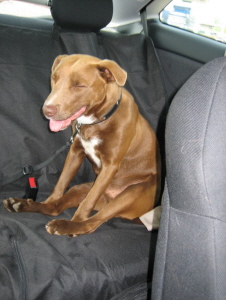 Having a snooze:




Everything went to plan until Nicola hit the M25. Bovril HAD to arrive at the rescue for 4pm as their kennels closed at that time. But at 3.45pm we received a call from Nicola to say she was still stuck on M25 and hadn't even reached the Dartford Crossing! Our only option was to run through Nicola's home situation to see whether she had young children, other dogs, cats or other potential hazards, and see if she was willing to hold him overnight before moving on to rescue the next morning.

To say Nicola was willing would be an understatement! She was more than happy, and expressed her wish to be considered for adoption. We agreed that she would discuss this direct with the rescue that Bovril was destined for, and Nicola promised to keep us informed.

The next morning Nicola was overjoyed to report that Bovril had been a star! He had met cats and horses under close supervision and been great with both, and was proving to be a lovely boy with a fantastic temperament, already responding to clicker training. Nicola had been in touch with the rescue and arrangements were made to take Bovril to them for vaccinating, assessing etc, with a view to processing an application to adopt.

Making himself at home: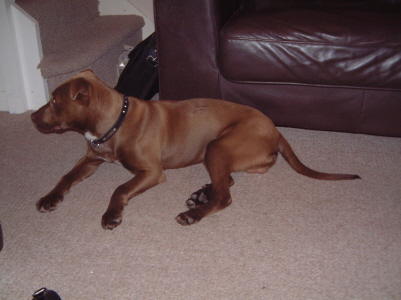 We heard this afternoon that Nicola's application was successful, and arrangements are being made for Bovril to be neutered.

Many transporters say "Oh I wish I could have taken him/her home" but it's not often it actually happens. Nicola may have failed as a volunteer driver, but Bovril has won the best prize possible…a perfect new home!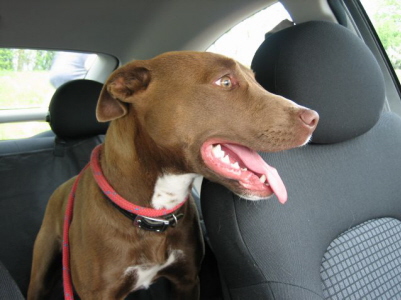 UPDATE 6/5/06: Bovril has been renamed Zac and has settled into his new home and lifestyle extremely well. There was a slight panic early on, when it was discovered that Zac had fractured a bone in his leg at some point (possibly whilst as a stray), but this is now mended and he is back to his normal self. Nicola adores Zac, and the feeling is definitely mutual.

Nicola sent us these photos to show how happy Zac is, aren't they great?

Zac at the beach: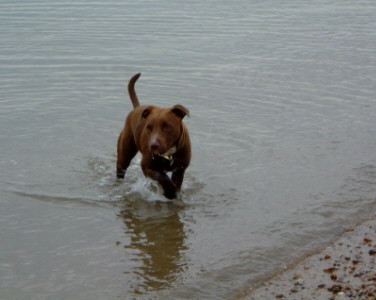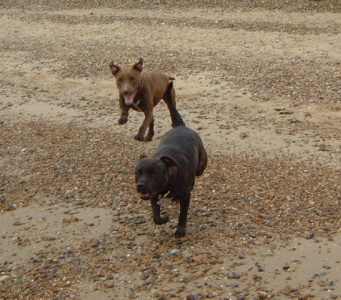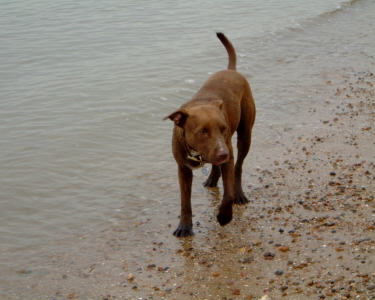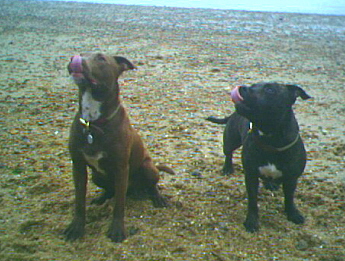 How big is that chew?!?!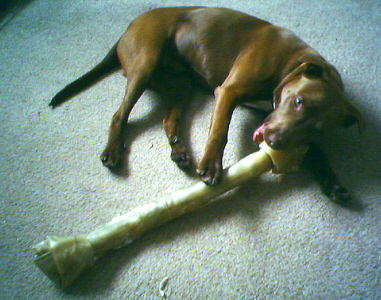 ---