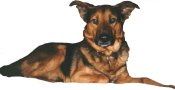 Cindy
Cindy arrived at the pound in March 2006 via the RSPCA. Her background was unknown, but with her she brought her litter of three 3 day old puppies.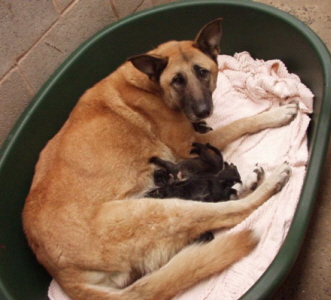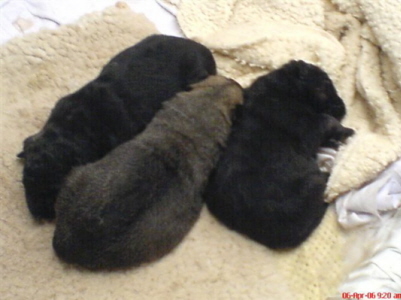 Cindy was a gentle girl and an excellent mother; protective, but not so much as to prevent the girls at the pound from checking the pups over daily. Cindy's face seemed to glow with pride when her babies were cooed over and admired, and she herself proved to be a very calm and affectionate girl.
The usual 7 days were waived in Cindy's case as the puppies needed stability and somewhere they could be nursed and so they remained for several weeks, growing bigger and more active. Cindy remained calm and loving, never losing her temper with them and always being the perfect Mum. She loved her special time for cuddles of her own though, and became a real favourite with the girls.
The puppies were fit and healthy and rapidly grew larger. Dad's origins weren't known, but it became clear that these were going to be big dogs. They were typical bouncy, licky, energetic bundles of fun, and on 21st April all 3 pups and Cindy moved to a good local rescue.
It was a tribute to Cindy's excellent care that each pup was rehomed quickly, and finally the news came that we'd been hoping for - Cindy had found her forever home. We were pleased that we could close the book with a happy ending.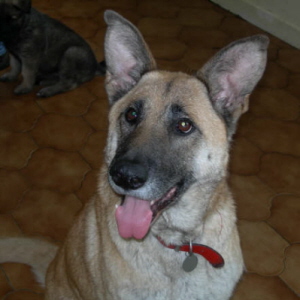 On 21st June, just 3 days after arriving in her new home, we received a call none of us could ever have expected. Cindy was dead.
It seems that a door was inadvertently left open and Cindy bolted. Being new to the family she had not developed a strong bond and would not recall. Despite all their efforts Cindy kept running and eventually found her way to the motorway. She was heading in the direction of the rescue centre when she was struck by a car and killed instantly. As she was tagged and microchipped to the rescue, her body was recovered and taken to them where they have buried her in their animal cemetery.
We know that the new owners are devastated, not just at her loss but the guilt and responsibility they feel. We send them, the rescue staff who fell in love with Cindy, the transporters who helped her get there and the girls at the pound, our most sincere condolences and love. Cindy will always be remembered as a proud and patient Mum and a gentle, beautiful girl.
---