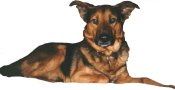 Dingo's Story (now named Ben)
Dingo/Ben arrived in the pound as a stray in a very sorry state. Jumping with fleas and sore from the resultant flea allergy, and with a problem with an enlarged testicle he presented a sad picture.

The owner of Dingo/Ben was traced by chance, but when asked if she wanted him back she decided she could not manage with him. We learned that Dingo/Ben spent much of his time tied to a washing line pole in the garden, and from his general condition it was clear he had received no medical treatment or daily health care in some time.

Dingo/Ben was signed over to the pound, and Rochdale Dog Rescue in turn took responsibility of him.

Dingo/Ben was in need of some TLC and so a special rescue space was going to be needed. Tailends in Devon fitted the bill, and we were very fortunate that despite the spaces there being greatly in demand, he was offered a retirement home with Angela and her other much loved dogs.

Transport to Devon was a bit of a problem, but with a halfway stop at boarding kennels in Leicestershire we were able to accept a very generous offer to take Dingo/Ben all the way to Devon by a young couple on a weekend surfing break! There was plenty of room for Dingo alonside the surfboards, and so plans were made and on Saturday 16th September, the lad settled down for the journey.

At around tea-time we learned that he had arrived safely and was beginning to meet his new companions.

Ben as he now is, has settled well into his retirement at Tailends - you can read more about him on the Tailends website.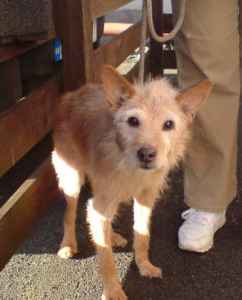 Click here to go to Tailends website.

---