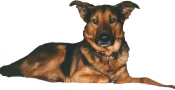 Fudge's Story
On 19th May 2006 one of our regular volunteers collected a pretty Dobie X girl from the pound and drove her down the M6 to meet the second person in the transport chain. 'Fudge' as she was then named, travelled really well, and Steph was sad to hand her over for her further journey to rescue. Steph and her partner had been talking about adding a 3rd dog to their family, but had set their hearts on a sighthound. Fudge was very definitely not a sighthound!

When Steph got home she showed Rob the photos she had taken of Fudge in her car, and to her surprise he also seemed keen to know more about her.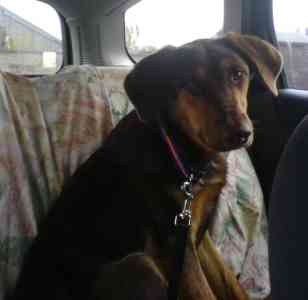 By that afternoon Steph had telephoned the rescue Fudge had been moved to and made arrangements to go down the next day and fill in some forms, with a view to adopting Fudge if her assessment went well. Steph already knew that Fudge was friendly and travelled well, the main stumbling block would be how she reacted to other dogs, namely Steph and Rob's existing pair, Phoenix and Nala.

Things seemed to be against them arranging a vist, with Rob having appointments he had to keep and family needs coming first, but eventually a trip was arranged to take Phoenix and Nala to meet Fudge. It was a worrying morning, but they needn't have been concerned! After some initial barking and lots of sniffing, all three seemed to settle with each other, and Steph and Rob felt sure that Fudge was the dog for them.

It was not an immediate homecoming however, as Fudge needed to be spayed, and a full interview and background checks needed to be carried out on Steph and Rob to ensure their home was suitable.

We all waited eagerly for news, and finally it came…Fudge was theirs!! Steph and Rob made the journey back down to the rescue, but this time they did not return empty handed. Fudge came home, and after several days of struggling to find the right name for her, we can proudly announce that Fudge is now Mya. Now, does she look at home do you think?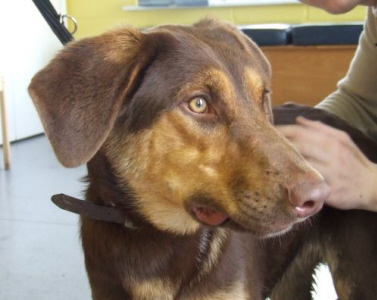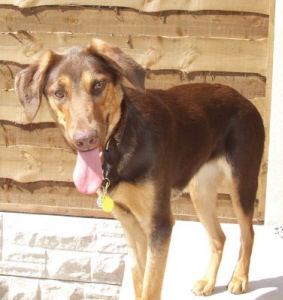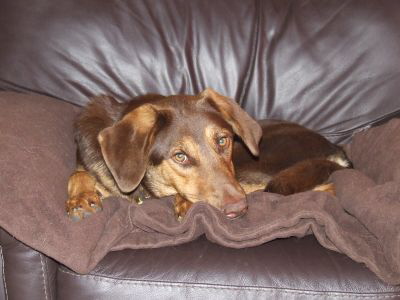 Congratulations to Steph and Rob on your very beautiful new addition. We wish you many happy years together, and look forward to lots more news and updates on Mya's progress.

---