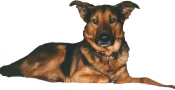 Hatty - Golden Oldie
Rehomed and Happy
Hatty, a Labrador X Staffordshire Bull Terrier found herself in the pound after being picked up by the Dog Warden as a stray. Hatty was no spring chicken, and someone somewhere must have loved her before, but she was not claimed and completed the full 7 days in the pound.

Hatty in the Pound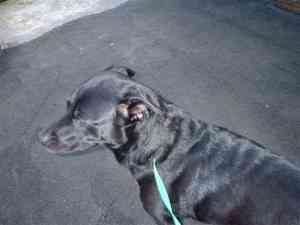 Having completed her time, Hatty moved to Lindsey's to be fostered whilst seeking a new home. She received a special present of a new collar when she arrived.

Hatty in her new collar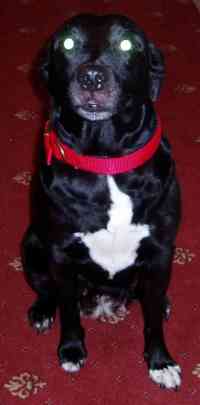 Poor Hatty was found to have mammary tunours, and underwent quite a large operation to remove these. Recovering in her foster home Hatty had many exciting new experiences, meeting people, cows, horses and other dogs and proved to be great with them all. It wasn't long before Hatty caught Amanda's eye, and she was offered a fantastic new home.

Here is what Amanda has to say about Hatty:

"I thought that you might like to know how Hatty is getting on. She is fine. She started to put on weight so we have reverted to 'light' food! She loves her daily romp in the park and after a bit of training we can now let her off.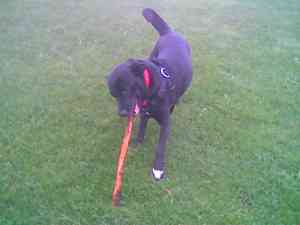 She is a bit naughty with other dogs though. Hatty continues to enjoy her toys (she gets a new one a week at the moment!) and lying in front of the fire."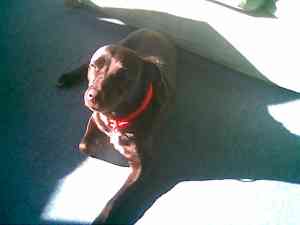 "Her barking habit has pretty much stopped. She is perfectly happy if we leave her alone, just so long as she has had her walk in the park! All in all things are great for Hatty. So thanks again for your work with her."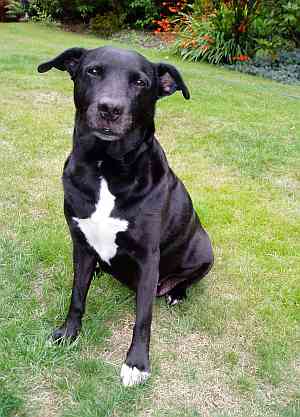 We know that Hatty and Amanda will have a lot of fun together, and we wish them all the best.
---