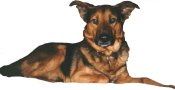 Lillian - A Devoted Companion
Rehomed and Happy
Lillian was picked up by the Dog Warden as a stray and taken to the pound.

Lillian in the Pound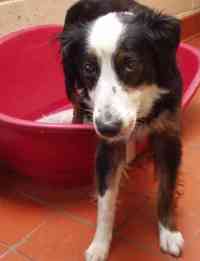 Her back was almost bald from a severe flea allergy; she was not claimed during the 7 days, but really needed some medical care before she would be fit for a rescue space or rehoming.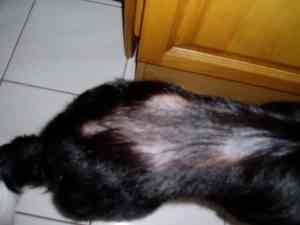 After her 7 days, Lillian moved to Lindsey's to be fostered whilst she received the necessary treatment and regained her strength.

In the kitchen at her foster home. What's to eat?



Only around 5 years old and with the flea allergy, Lillian was also very thin. She had obviously been left without treatment or care for some time. She was very timid but with patience, a gentle hand and with Lindsey's dog Teddy enticing her to play, Lillian soon came out of her shell and showed what a wonderful, loving little girl she was!

Lillian was spotted by a lovely gentleman called John. He fell in love with 'Lily' and after a successful homecheck John's new friend joined him at home. Lily is now his constant companion, and they are devoted to each other.

Lillian looking so much better in her new home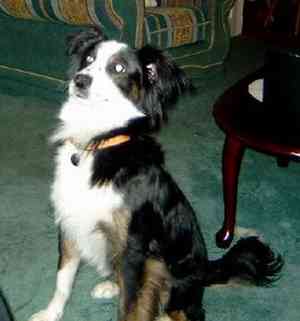 John told Rochdale Dog Rescue:

Thank you for letting me adopt Lily, she has made me very happy. She is very affectionate and loving. Lily has been off the lead and has come back and walked to heel every time. She always follows me around, she is so alert and soon barks when people knock the front door. Lily is a joy and a pleasure, and it is a privilege to be with her.

Enjoying a cuddle and a toy with her new Dad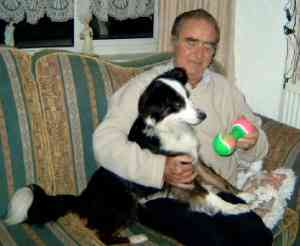 The perfect partnership!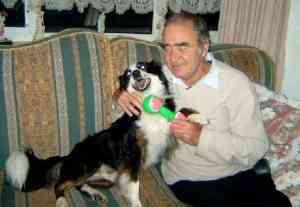 We wish John and Lily a wonderful future together. They certainly do adore each other!
---