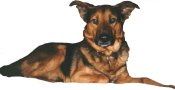 Our Origins
Rochdale Dog Rescue has been in existence for many years, but only in its current form since 2005. Read how the rescue began, and how the love of 2 special dogs helped its development into the valuable resource it is today.


---
Pat Crabtree established the rescue in 1975 when she began helping unwanted dogs in the Rochdale area. These dogs were either in foster homes or their own homes needing new owners, and Pat began by placing advertisements in the local papers. Over time this developed, with more dogs being helped in this way.
In 1993 Coryn Shields lost her own dog (Sam the Boxer) to cancer, and when she felt ready to rehome a rescue dog she answered one of Pat's adverts. Two year old Bruno was suggested as a suitable match, and an introduction followed; it was love at first sight. A special bond was formed and Bruno became Coryn's new companion.
Having seen the good that Pat was doing Coryn offered to help if she could ever be of use.
Little did Coryn know that just a few hours later she would be driving around in the dead of night hunting for a missing dog with Pat, and another new friendship was born. Thanks to Bruno bringing them together Pat and Coryn worked together for two years, developing Rochdale Dog Rescue and rehoming more dogs in Rochdale and the surrounding areas, and in 1994 Coryn added to her family with Zara, a bitch who'd come into rescue heavily pregnant having been found as a stray.
In 1995 Pat moved out of the area, and Coryn took over the day to day management of rehoming.
As time went on, Coryn was contacted on occasions by a local Dog Warden, asking for help to save a dog in the pound who had run out of time. Although this was not a regular part of the work of Rochdale Dog Rescue, Coryn realised that there was a whole group of dogs whose plight she had previously been unaware of, and between 2004 and 2005 she began to develop a relationship with this particular pound.
In March 2005 a formal link with the pound was formed, and Rochdale Dog Rescue began to offer help for all of the dogs reaching the end of their 7 days.
The team developed too, with new volunteers joining Coryn to take on other roles. In January 2006 the website became live and Rochdale Dog Rescue in its current form was born.
Had Coryn not been looking to home a dog and met Bruno through Pat she would never have become involved in the rescue. And the addition of Zara confirmed for her the important nature of rescue work for stray dogs, who would otherwise have little hope of a second chance. These two dogs were much loved by their owner and anyone who met them, and this is our tribute to them.
---
Bruno
Bruno was a German Shepherd cross, and very laid back. This didn't mean he was on his best behaviour at all times though! He was cheeky and very food orientated and would raid bins or counter-surf for tasty scraps. But for the next 12 years he was faithful, loyal and became Coryn's shadow - wherever she went, Bruno would be found close behind.

Coryn describes Bruno as her 'soul mate'. When she curled on the sofa in the evenings after work, Bruno would lie as close as possible, often tripping his Mum up as she tried to get up to answer the phone or the door. He sensed Coryn's moods, and in typical German Shepherd fashion knew when his Mum needed kisses and cheering up, and when she was up for a play session. Undemanding and laid back, he was always happy to be with Coryn no matter what she was doing. Bruno was not a good traveller and hated water, but he adored cuddles and loved people, placing his head on their knee with those 'love me' eyes for an extra hug.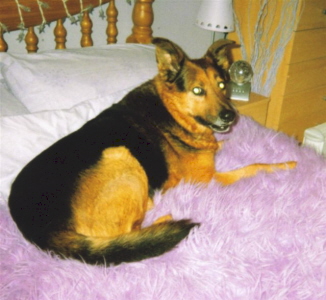 All was well until March 2005 when Bruno suddenly became very ill, and in obvious pain. Investigations at the vets discovered a tumour on the spleen, and the spleen was removed. Although Bruno recovered well from this operation, the results of tests on the tumour were devastating, and Coryn was told that Bruno had hemangiosarcoma, a very aggressive form of cancer. Although no other tumours were immediately evident, it was a case of 'wait and see'.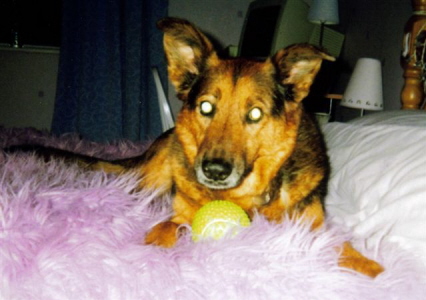 Bruno did well, bouncing back from the operation and returning to his usual cuddle-monster self. But in the early hours one night in April having had his tea and been for a walk as usual, Bruno became restless and distressed. He was unable to lie down, and was in obvious pain. An emergency visit to the vet showed that Bruno was suffering from the spread of the cancer, which was incurable, and the decision was made to put him to sleep. Coryn sat on the floor hugging her best friend before saying goodbye.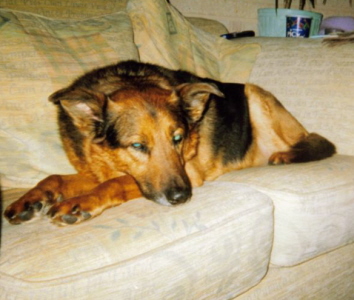 Bruno died on 19 April 2005 aged 13 years
---
Zara
Zara was found by a member of the public in Shaw, Lancashire, heavily pregnant. She'd been living in the lady's shed, but as she neared time to whelp it was important for her to have somewhere more suitable and a foster home was arranged with a contact of Coryn's.

Just 2 days later Zara gave birth. 5 puppies came first, then 2 hours later another 5. 10 little bundles of hard work, who had to move to Coryn's with their Mum at just 2 days old when their foster carer had to return to college.

Zara proved to be a fantastic Mum, attentive, gentle and very loving, and with such good care they grew fast. All were homed at 8 weeks old, but Zara had settled well with Coryn and bonded with Bruno, and so Coryn made the decision to keep Zara herself.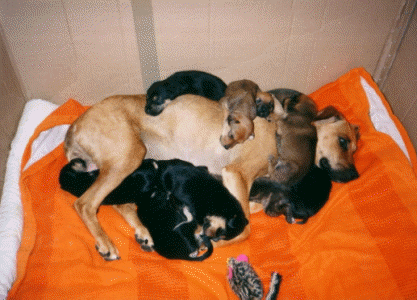 Once her puppies had gone and she no longer had to be a sensible Mum, Zara showed her true nature. Believed to only be around 2 years old herself she began to enjoy some of her youth and became bouncier and more lively. She adored children and was always excellently behaved around them. She was not over keen on all other dogs but became firm friends with Bruno.
Zara is most remembered for her incredible energy. She could walk for miles and then some! Unlike Bruno who did not enjoy car travel, Zara was always happiest out and about. She began attending dog shows around the country with Coryn, winning rosettes for Waggiest Tail, Most Contented Rescue Dog and Best Veteran.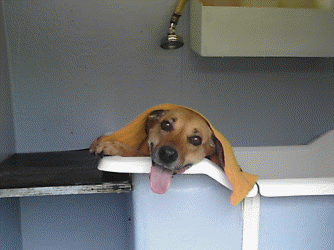 After Bruno died in 2005 Zara now 12 years old became more reserved and a little aloof. She clearly missed her companion; struggled to eat, was withdrawn and only seemed truly happy when she was out walking with Coryn.
Late in 2005 Zara showed signs of being unwell. Antibiotics didn't help, and further investigation showed a tumour in her lung and spleen area. The spleen was removed, and tests results indicated that although the spleen tumour was not malignant, the lung situation was serious. It was a matter of time.
Despite her illness Zara remained active and wanting to be out and about right till the end. Coryn made sure that Zara's final months were filled with walks and fun and that she was kept pain free. Zara's spirit remained strong till the end, and even on the day she died she was trying to take her usual walk when her legs collapsed. Coryn knew that this was the end, and Zara was helped on her way peacefully by the vet.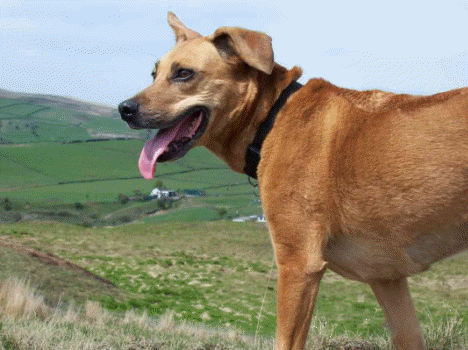 Zara died on 8 July 2006 aged 13 years
---
To find out more about Rochdale Dog Rescue, what we do and who we are, and to read the answers to some of the questions we are asked most often, please visit our Frequently Asked Questions page.


---