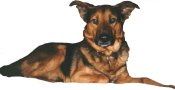 Oscar - Do you need a Goalie?
Oscar is 5 years old, crate-trained and loves playing Penalty Shoot-out! Do you need a goalie?

Oscar has been with his current owner over a year, but due to her failing health she is having to rehome him. All information has been provoided by the owner, and Oscar will be visited and assessed by a member of the Rochdale Dog Rescue Team before enquiries about rehoming will be acted on.

Oscar's owner says that he is strong on lead, especially when he sees other dogs. He has been known to scuffle with another dog, but it is not clear from the information we have whether Oscar is actually dog-aggressive or defensive. This will be looked into.

Oscar is fully house-trained, and is used to having a crate as a safe place. We would advice that a crate is offered to enable him to settle in a new home with his known security.

He is used to a good diet, with breakfast, evening meal and bed-time snacks, and loves fruit and vegetables. We would expect any new home to continue offering a varied and nutritious diet. Oscar's favourites are bananas and carrots!

Oscar is used to visiting children but does not live with children currently, and we would prefer a home without children, or with older teenagers. He loves to play with his toys and ball, and will act as goalie in a game of football, which he adores.

He is a slim built Collie Cross, black and white and smooth-coated. Photos will follow shortly.

Anyone interested in rehoming Oscar needs to Contact us or telephone Clare on 07929 478634 for an informal chat.


---
As with all dogs rehomed with the support of Rochdale Dog Rescue an informal telephone interview is required, an application form will be completed and if the home is suitable a homecheck will be carried out.
If successful an adoption contract is completed and a donation is usually required. The dog will be neutered or spayed, vaccinated and micochipped.
---