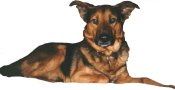 Meet The Poopies!
3 little girls and 3 little boys!


The Poopies are Springer Spaniel Crosses, 6 weeks old and are currently in a foster home in the North West.


THE BOYS
GEORGE - He is smooth coated and has a black head and black and white body. Beautiful little boy with a cheeky personality. Mischevious and friendly. Smallest of the boys but the most alert and confident, he watches everything.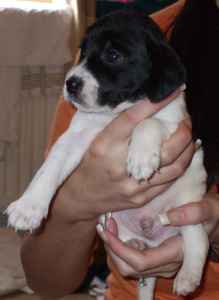 WINSTON - The largest of the litter. He has a smooth coat with a black head with a thick white stripe down the middle and a black and white body. He is a beautiful lad with sad looking eyes but a waggy tail and a cute woof. He is the quietest of the lads and is quite dopey.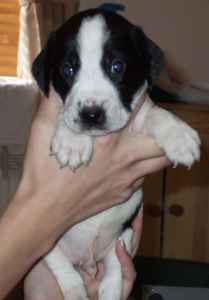 ALFIE - Another beautiful boy, with a smooth coat, he has a thin white line down his head with the rest being black and a white and black body. He is very friendly and loves to play with the other puppies. He is the fiestiest of the boys letting out cute growls when he is about to pounce.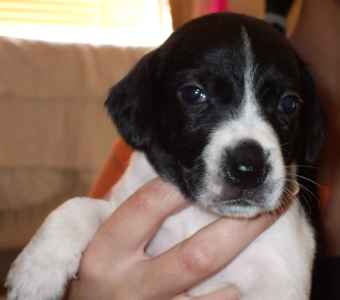 THE GIRLS
MACEY - She has a black head with two spots, one above her tail and one on her tail but predominantly white. She is very fluffy and her face looks a bit like a terrier. She is the fiestiest of all the puppies and one of the noisiest having a lot to say about nothing! She is happy when she has attention and will cuddle up on you and fall asleep.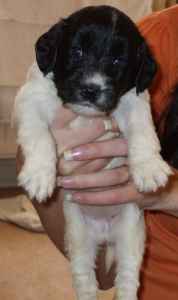 BO - She has her name as she has a slightly deformed bow shame in black on her head and a small black spot on her side. She is another fluffy puppy and is beautiful and friendly. She is very playful and people can't put her down when they come around as they think she is fab.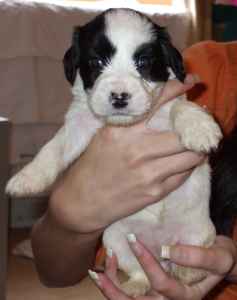 SAFFY - She is the only smooth coated of the girls. She has a black and white face and a white body with a black spot on her side. She is the quietest of the litter but very alert. She will spend ages just looking at her reflection in the mirror and we can understand why as she is beautiful.

Updated photographs and news of the puppies can be seen HERE.

Any new owner must demonstrate knowledge of puppy training, and an understanding of the commitment involved. No full-time working homes will be considered, and someone needs to be home most of the time. We will also NOT home to families with children under 7 years of age.

Anyone interested any of these little girls or boys needs to contact us or telephone Coryn on 07939 489363 for an informal chat.


---
As with all dogs rehomed with the support of Rochdale Dog Rescue an informal telephone interview is required, an application form will be completed and if the home is suitable a homecheck will be carried out.
If successful an adoption contract is completed and a donation is usually required. The dog will be neutered or spayed, vaccinated and micochipped (if old enough).
---