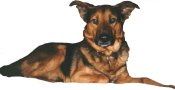 Ronnie and Reggie
Bouncy Boxer Cross Boys!
Ronnie and Reggie are a pair of 8 month old Boxer X brothers who are looking for separate homes where they will get some individual attention and training. Experienced homes only will be considered as these lads need basic training and socialisation.


In the photo above Ronnie is on the left (he has a dark tail) and Reggie on the right (he has a lighter tail).
The boys have been living with their owner, who also owns their Mum, a Boxer. Dad is believed to be a Labrador Cross. They are house-trained.
The boys have
never
been lead walked, so will need to be taken right back to basics with patient and calm introductions to all of the socialisation they have missed.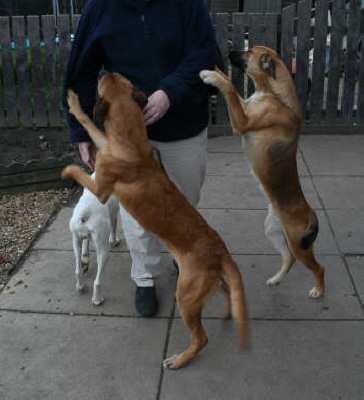 Neither of the boys has been introduced to dogs outside of their own little family group, and have no experience of cats or young children. We therefore have a very specific homing criteria and will only consider homes which meet the following:
Previous dog ownership and training experience
Agreement to attend basic training classes
We will consider homing where there is an existing dog, dependent on introductions and the existing dog's temperament
From assessment we know that these lads are extremely friendly and affectionate, very bouncy and energetic and love to play.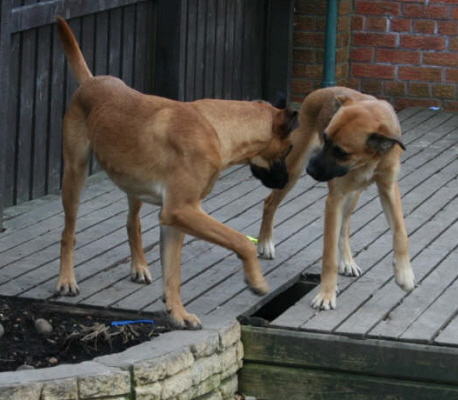 They are handsome looking boys of medium height and slender build. They are used to sleeping in the kitchen at night with each other for company, and can be left for short periods as they are not destructive.
We know that Ronnie and Reggie will make wonderful companions in the right home. Is that yours?
Anyone interested in rehoming Ronnie
or
Reggie needs to
contact us
or telephone Clare on 07929 478634 for an informal chat.
---
As with all dogs rehomed with the support of Rochdale Dog Rescue an informal telephone interview is required, an application form will be completed and if the home is suitable a homecheck will be carried out.
If successful an adoption contract is completed and a donation is usually required. The dog will be neutered or spayed, vaccinated and micochipped.
---