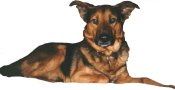 Sam and Jason - Best friends!
Sam and Jason are looking for a home where they can remain together. Sam is an 8 year old female crossbreed, medium/large in size, and Jason is a small, male 13 year old Dachshund X JRT

Sam is a little less confident than Jason, and needs a reassuring home, where she would be given patience to settle in her new environment. She can be distressed by change, but given a little time she bonds well and is very people focussed.

Despite her age, Sam is still an active girl and would happily play all day. She loves her walks, and although she pulls a little on lead at first, she soon settles and walks nicely. She knows several commands, including sit, lay down, and will give either one or both paws when asked.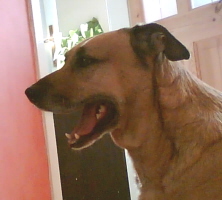 Sam is ok with other dogs, but is definitely not to be homed with cats. She is great with children, but we would be looking for a home with older children only (7+).
Sam has been with her current owners for 3 years, but they are relocating abroad and having taken a vet's advice about the climate are unable to take the dogs with them.
Sam is nervous of fireworks, and wary of people wearing baseball caps. She loves rough and tumble play and her toys, and is a very happy girl in a reassuring environment. Fencing would need to be 6 foot minimum as she has been known to clear 5ft, although she has always returned home after a brief wander of the immediate area.
Jason is the most confident of the pair. A real little character, but definitely not to be homed with or in very close proximity to cats.
He is a mature fellow of 13 years, and has been with his owners for 7 years. Jason was the only survivor of a litter thrown into a river, and despite his ordeal he adores water and will dive in at the first opportunity. Anyone wishing to home this pair will need to ensure that garden ponds are secure, or easily escaped from.
Jason is just a little chap so cannot jump fencing, but will sneak under if there is a gap, so fencing must be secure. He is very sprightly for his age and still has a lot of energy. He walks well on the lead, and will walk to heel. He is a little wary of meeting other dogs, depending how bouncy they are, but is mellowing with age. He is also good with children (although the 7 yrs + rule applies).
Jason loves car travel, plays with soft toys, and knows several commands including sit, lay down, roll over and plays "hunt the biscuit". He also likes to jump onto the back of the sofa and watch the world go by from the window.
Both dogs are used to having the run of the house and sleeping on the couch, and we would prefer a home where their known routine is not radically changed. They are both fed a tinned meat, with biscuit.
More photographs will be added as soon as available.
Anyone interested in rehoming Sam and Jason needs to
contact us
or telephone Clare on 07929 478634 for an informal chat.
---
As with all dogs rehomed with the support of Rochdale Dog Rescue an informal telephone interview is required, an application form will be completed and if the home is suitable a homecheck will be carried out.
If successful an adoption contract is completed and a donation is usually required. The dog will be neutered or spayed, vaccinated and micochipped.
---