Twinkles Page

Twinkle has been with us a little while now after coming into our care from a very sad start in life.  We have made her a page of her own to tell you a bit more about her and how lovely she is in the hope that we can find her a forever home!
She is a Shar Pei Cross, female, approximately 18 months old.  She is tan and she is medium in size.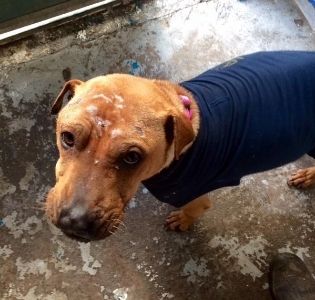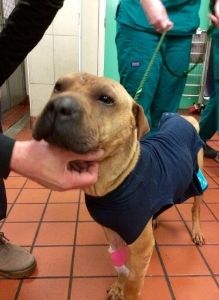 We were asked to help Twinkle when she was found on a flat balcony in December in a very poor state by local dog wardens - we can only imagine at her story before she was found - she was emaciated with lots of wounds and scars and needed to spend 4 days at the vets as she had hyperthermia and only weighed 14kg.

The local dog wardens rushed her to the vets and in their words...
"The weather was horrendous. It was cold, windy, and raining heavily.
"We got a call to a flat and they were claiming they had found the dog the previous night in the park, but the dog was attacking their dogs, so that's why they wanted us to pick it up.
"I pulled back the curtain to the balcony and saw a ball curled up. She didn't move and had been out there several hours. Wil went over to her and and she couldn't stand, as soon as she tried to she fell. She was emaciated. At that point I started crying. I had never seen anything so horrendous.
"We took her to our van. Wil was sat with her on his lap, her head was limp. There was nothing in her eyes, she was giving up.
"We got her to the vets. They said she was severely underweight - she should have been 25 kilos. She was dehydrated and the vet said she would be lucky if she lasted the next hour.
"The vet was sure she had been used as a bait dog as her head was covered in scars."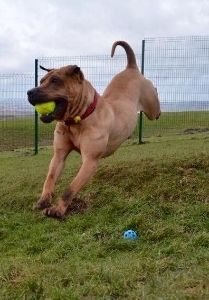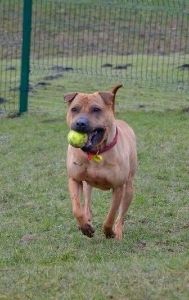 Twinkle is doing really well now and would love a family to call her own. 
She is a loving girl whose character has really come out she is great fun to be around and she loves to chase her ball and can get a bit obsessed with playing if you let her! She is very affectionate and loving and enjoys a good fuss.   She does walk out nicely on her harness and travels well.

She does need to be the only pet, sadly after her start in life she is unsuprisingly not too keen on other dogs and we don't think that she would be able to live with cats either.  She should be able to live with older children and would love a garden to run around in. 

Twinkle will be moving to a new kennels in the care of a dog trainer as soon as a space becomes available, where she can get lots of one to one training which will help her prepare for her new home and work on  her interactions with other dogs - this support would continue into her new home.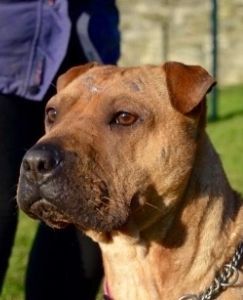 If you would like to see more of Twinkle
Click Here
for her photo album.
If you think you could offer Twinkle a loving home then please complete our Rehoming Enquiry Form in the first instance.
REGISTERED CHARITY NO: 1162047